The Project Team
Dr. Anna Kosmützky
International Centre for Higher
Education Research (INCHER-Kassel)
University of Kassel
Moenchebergstr. 17
D-34109 Kassel
Phone: +49 561 804-2344
Mail: kosmuetzky@incher.uni-kassel.de
Website: http://kosmuetzky.de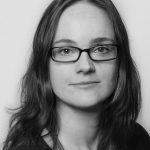 Dr. Romy Wöhlert
Institute of Communication and Media Research
University of Leipzig
Burgstrasse 21
D-04109 Leipzig
Phone.: +49 341 97-35708
Mail: romy.woehlert@uni-leipzig.de
Website: http://romy-woehlert.de
Dr. Anna Kosmützky:
Dating back to the 19th century, international comparative social science research emerged and prospered based on the underlying notion that social-scientific quasi-experiments could implement a methodology as rigorous and precise as that of real experiments. As a sociologist, I am interested in the development and contours of international comparative epistemologies, methodologies and methods. As a higher education researcher, I conduct international comparative studies because they enable me to see intriguing differences and similarities among higher education systems throughout the world, and to reflect upon my own home system through the lens of other systems. As a teacher, I help disseminate knowledge regarding the theoretical, methodological and practical challenges posed by international comparative social research.
Dr. Romy Wöhlert:
As a sociologist, I find it fascinating to study the social and cultural norms and processes of societal groups and to compare them with those of other countries, societies and cultures. This comparison allows us to define whether and how societies function according to universally-prevailing norms and processes. As a communication researcher, I find it interesting to deal with the social, cultural and scientific diversity of academic project teams. In order to communicate and cooperate with each other in the context of a joint research process, we require not only subject-specific, but interdisciplinary and intercultural, competences. As a professional trainer, I am enthusiastic about sharing my international research experience with other comparative "practitioners" and accompanying them on their way into the field of international comparative and collaborative research.
Dr. Anna Kosmützky:
Comparative Epistemology and Methodology
History and Development of International Comparative Social Research
The Social Dimension of (Comparative) Collaborative Research & Team Dynamics
Dr. Romy Wöhlert:
Diversity Management & Teamwork
Project Collaboration & Team Dynamics
Communication Processes & Communication Management
Theory Application & Theory Formation
Dr. Anna Kosmützky:
Change in Networks, Higher Education and Knowledge Societies (CINHEKS) (2009-2012), a collaborative research project with 22 partners from Finland, Germany, Japan, Portugal, UK, and the US. Further information is available on the CINHEKS website and in the final project publication.